The Importance of Giving Back
An organization's social responsibility is increasingly important to success as a brand. Philanthropic efforts not only improve a company's reputation, but can act as a market differentiator and even boost employee retention.
Did you know that consumers are willing to pay 6 % more for products from companies that contribute to their communities?1 Millennials and members of Generation Z care deeply about how their employers act. They don't want to just work and buy from any business. They want to ensure their money is going to good use.
More and more, individuals want to know about where their dollar goes, and how their work impacts society as a whole. In fact, in a survey of more than 2 000 people, nearly 66 % of people between the ages of 18 and 34 said they were somewhat more likely to want to work for a company that gave to charity. For all age brackets, that number was either right below or above 50 %.2
According to a research study from Ultimate Software and the Center for Generational Kinetics (CGK), 85 % of employees say that an organization's level of social responsibility impacts their decision to stay longer. Read on to learn how to create a culture of caring at your organization, and how best-in-class technology can help.
How to Create a Culture of Caring
Now the question remains: how do you incorporate philanthropic efforts into your company's culture?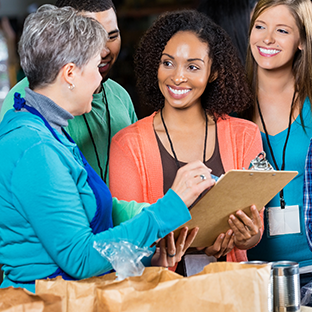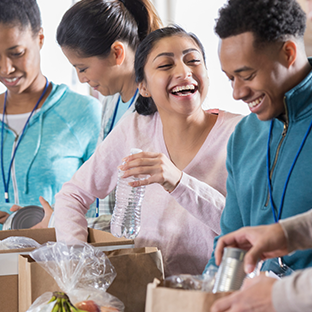 FOSTER TEAM BONDING
While there are a few ways to incorporate a culture of caring into your organization, one of the best ways is to use it as an opportunity to inspire team bonding. Whether it's organizing service days for your team or doing in-office fundraisers, community events are a great way to get people excited about giving back while improving overall morale.
CREATE COMMITTEES
Committees empower your employees to voice ideas and have designated people take the lead on what philanthropic initiatives your organization takes part in. This allows for employees to find leadership roles outside their daily job description. Committees can foster engagement and inclusivity, while offering employees a chance to take part in giving back.
CREATE A CORPORATE SOCIAL RESPONSIBILITY (CSR) PLAN
Working with HR can give you insight to what charities and organizations your employees really care about. From there you can create a plan of action to incorporate philanthropic efforts into your organization in a sustainable way. The last thing you want to do is go all in on year one, and not know what to do after. Plus. having a CSR plan makes your organization more appealing to newer members of the workforce.
Ultimate Software's Approach
At Ultimate Software, "People First" is more than just our slogan. It's the way we all act every day. From different support communities, such as PrideUS and UltiHope, to new development opportunities, we constantly strive to put our customers and our people first.
"The truest measure of a company is how it treats its lowest paid employee." - Scott Scherr
From paid service days to community collections and donations for disaster relief, Ultimate makes it a priority to help others. And it's more than just talk. Every employee gets three service days a year that can be used at a variety of non-profit organizations.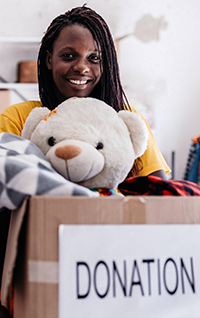 We also participate in nationwide charities that include multiple drives throughout the year.
ULTI SERVICE LOCATIONS
Animal Shelters
Another charity of an employee's choice
CHARITY DRIVES
Shoe drives
Food drives
Clothing drives
School supply drives
Natural disaster relief
In 2018, Ultimate Software raised more than 1 $.2 million for 12 different charities through our fundraising tool, UltiPro® Giving.
Ultimate also gives back to their own people. After the Parkland shooting in 2018, UltiPro Giving was used to donate to Marjory Stoneman Douglas High School. And after Hurricane Irma, a category four hurricane that hit South Florida in the fall of 2017, many people were left without power and access to clean water. Ultimate Software shipped in palettes of water to provide to employees as well as provided food trucks for lunch, to offer employees a free meal.
To learn more about how we are committed to our communities, check out our giving back page.
Click. Give. Change the World.TM
UltiPro Giving enables companies to offer employees more opportunities to make a difference in their communities in an easy and convenient way. UltiPro Giving helps facilitate and promote charitable giving campaigns with your organization's payroll. And it comes included with UltiPro at no additional cost.

Through UltiPro, you can create, schedule, and distribute charitable campaigns. It's simple. HR can leverage an intuitive dashboard to set up giving campaigns and track participation and engagement levels, while employees can easily contribute using the mobile app and have the donation automatically deducted from their paycheck.
Want to see how easy it is? Discover the power of UltiPro Giving.
© 2020 Ultimate Software Group, Inc. All rights reserved. The information contained in this document is proprietary and confidential to The Ultimate Software Group, Inc. No part of this document may be reproduced or transmitted in any form or by any means, electronic or mechanical, including photocopying and recording, for any purpose without the express written permission of The Ultimate Software Group, Inc. No part of this document may be extracted and/or used out of the context of the full published document for any reason. This document is for informational purposes only and is subject to change without notice. Ultimate Software makes no warranties, express or implied, with respect to this document or any statements contained therein and specifically disclaims any warranties including but not limited to those for a particular purpose. This document contains or may contain statements of future direction concerning possible functionality for Ultimate Software's products and technology. Ultimate Software disclaims any express or implied commitment to deliver functionality or software unless or until actual shipment of the functionality or software occurs. UltiPro is a registered trademark of The Ultimate Software Group, Inc. All other trademarks referenced are the property of their respective owners.